Most visitors are surprised that it can take a full day to travel between cities in Cuba; this island is deceptively large. For shorter trips, plan your Cuba itinerary around Havana and the scenic west; two weeks or more allows you time to reach the Afro-Cuban stronghold of Santiago, with plenty of stops along the way. For those travelling independently, daily Viazul tourist buses are comfortable and air conditioned; while drivers will find roads poorly signposted but pleasantly free of cars. Many Cubans hitchhike to get to work; you could pick up an impromptu guide!
How to get around in Cuba
1-Week Cuba Itinerary: Havana, Vinales and Trinidad
If you only have one week to spend in Cuba, we suggest that you focus your Cuba itinerary on just one or two destinations. The country may look small on the map, but the lack of good infrastructure makes it hard to hop around from city to city.
Havana
If you are interested in experiencing some Cuban culture (and we sure hope you are), we recommend starting your trip in Havana. You'll want to spend at least 3-4 days in the city.
This will give you just enough time to explore most of Old Havana, visit the Malecon, and get a chance to take a trip out to Vedado. But even those that decide to spend an entire week in Havana won't get bored.
Some of our best memories from Havana were from the days we spent getting lost in the streets of Old Havana, sipping cocktails and enjoying people watching in Plaza Vieja. The longer you stay in Havana, the more you'll come to love this old colonial city.
Day 1:
Check in to your casa
Your guest family is probably already waiting for you. Some families also offer a pick-up service from the airport. In case ususally a friend or family member will be waiting for you at the airport with their old Lada to bring you back to the city for 30 CUC (it used to be 25 CUC).
Obispo Street
Head straight to Obispo Street in Old Havana to experience the most exciting part of town — and also the area you've likely seen in all of the photos. Take in the colors, architecture, live music inevitably being played in the streets, and enjoy some churros or fruit from a cart to keep your energy levels high.
Lunch at El Chanchullero
Make your way over to this 3-level restaurant that serves up yummy versions of classic Cuban dishes. Depending on where you're sitting, you'll be in perfect positioning for a bird's eye view of the comings and goings of the local crowd below.
Stroll the Plaza de Armas
Stroll around the Plaza de Armas for some souvenir and book shopping. If you want a little bit of Cuban film history, scope out one of the guys selling film poster/prints and prompt them with a few questions — just be warned, you may not get a swift exit from the conversation!
Mojito Break at NOA
Move towards the Malecon to NOA Bar Paladar for some mid-day mojitos — because those are required in Cuba! This spot is set in a cute little alleyway close to a wifi source with an ocean breeze, so you can cool down with a drink and check-in with life back home (although, when you're in Cuba why would you want to)?
Rooftop Views From Hotel Ambos Mundos
Just before sunset, make a visit to Hotel Ambos Mundos, a pink hotel in the center of Habana Vieja (Old Havana) which has stellar rooftop views overlooking the entire city.
Dinner at Habana 61
For dinner, Habana 61 is a great modern option for fresh and healthy food (some of the best we had during our stay in Cuba).
Drinks at Ernest Hemingway's Watering Hole
End the night at El Floridita, a must-do for Ernest Hemingway fans as the writer frequented this now 100-year-old bar.
Day 2:
Start the morning with breakfast and coffee at your casa (most casas provide this, so make sure to ask if this is included in the price when booking).
The Oldest Hotel in Havana
Pop over to the Hotel Inglaterra, which is the oldest hotel in Havana and a fun spot for pictures if you enjoy retro signage! Across the street is an easy stop for the Habana Bus Tour which will take you all around the city.
See The Sights Via the Habana Bus Tour
Ok, let's get one thing out of the way. I'm not one to normally suggest doing the tourist bus, BUT I particularly enjoyed this one for a few reasons. First off, it's a super cheap way to cover a lot of ground around the city in a place where public transport is not readily accessible. Also, after a day on foot walking all around Old Havana, we enjoyed resting our legs and getting a different perspective from above. As a photographer, I especially loved this because there are so many cool buildings with intricate details to shoot from a higher vantage point. You can hop on and off the bus whenever you please and they don't talk over the loud speaker the entire trip, so it's quite relaxing especially on a nice sunny day — wear a hat or sunscreen!
Stop for Pictures at Revolution Square
Along the Habana Bus Tour, make sure to hop off at Plaza de la Revolucion where the famous Che Guevara mural is located.
Coffee Break at Cuba Libro
At the Colon Cemetery stop, hop off for pictures and walk five minutes to Cuba Libro, my favorite coffee shop and bookstore in Cuba with hippie vibes and a great selection of English books and magazines.
Dine at One of the Privately Owned Paladares
Paladares are the non-government run restaurants in Cuba and typically have better food than the latter option. Take the bus back into town and hop off to make your way to Atelier for dinner, a beautiful restaurant in the newer part of Havana which is consistently listed as one of the top paladares in the city.
San Cristobal is also a famous locale (make reservations ahead). It didn't blow us out of the water, but the history behind this place (the Obamas made it famous) and atmosphere alone is worth checking out.
Socialize at the Fabrica de Arte
Don't miss Fabrica de Arte Cubano (FAC).. It's a contemporary art gallery that has been turned into a party spot. Different rooms throughout the gallery have different setups, ranging from live EDM bands to movie screenings. The lines get pretty long so be prepared to wait. The FAC open 8 pm – 3 am Thursday to Sunday each week.
The Parisien Cabaret at Hotel Nacional
End the night at the Hotel Nacional for the Parisien Cabaret show, one of the highlights of my trip. Many people decide to see the pricier show at the Copacabana as it's more reputable, but my friend and I decided to go with this show instead and I'm so glad we did. It was entertaining, hilarious, impressive and cheesy all at once. Loved every minute.
This beautiful and laid back lush valley in Pinar del Río province of Cuba provides a stark contrast to the hustle and bustle of Havana. Spend a few days enjoying the scenery of the karst mountains, take a horseback riding tour, go on a hike, or visit one of the many tobacco farms to get the lowdown on one of Cuba's biggest exports.
Visiting Viñales feels like seeing the real Cuba. It's still a tourist town (and depends quite heavily on visitors), but with a local population of only about 10,000 Cubans, you get the feeling that it's the kind of place where everyone knows each other's names. Located in the Pinar del Rio region on the West side of the island, Viñales is the best place to experience the natural beauty of Cuba.
Day 4:
Check in to your casa
Arrive in Viñales around 5 pm, and check into Villa Farner's, a modest little casa run by Lisette and Jimmy that sits in convenient proximity to the main drag in town (see map for details). Plus, the breakfast and rooftop views are to die for.
Take a tour (on your own)
A viewpoint: panoramic views of the entire Vinales valley, a UNESCO World Heritage Site.
Have some lunch
Lunch at an organic farm: a true farm-to-table experience! The food was fresh and absolutely delicious. The meal included everything from fresh meat and fish, to fresh vegetables cooked in Cuban spices. Our table was in a little hut that overlooked the lush valley.
Explore the hood
Cueva del Indo: an underground boat ride through historic caves of Vinales
Viñales Mural de la Prehistoria: a large colorful mural painted on the side of a mountain. The mural represents evolution from early sea-organisms to humans. However, we just stopped here for 10 minutes.
A tobacco farm tour: Vinales valley is known for its tobacco plantations. We had the opportunity to see a farmer roll a cigar live and also bought some Cuban cigars at a great price (~20-30 CUCs for 10 cigars).
Dinner
Be warned, there's not much (if anything) in the way of good food in the main center of town in Viñales, so expect very basic and you may be pleasantly surprised.
Take in the views of Viñales
Head to the rooftop of your casa (many in the area have them) for a sunset viewing overlooking the Viñales Valley. We spent a memorable night drinking wine and chatting it up with our casa hosts on the roof while each sampling our very first Cuban cigar — not a regular thing for me, but when in Cuba!
Dance into the night
Walk a few minutes to the main square of town for salsa dancing in the square and to mingle with locals.
Day 5:
Viewpoint at Hotel Jazmine
Start the morning off by hopping onto the local Viñales bus which has multiple stops at tobacco houses, the Hotel Jazmine (great views overlooking the Viñales Valley, but terrible food) and other local tourist attractions. It's the most convenient way to get around and often cheaper than taking a taxi, so if you're looking to explore the area outside the main square this is the way to go. You'll find the bus stop right in front of the main square.
Lunch at Finca Agroecologica El Paraiso
Once you've worked up an appetite, head over to the best lunch in town at Finca Agroecologica El Paraiso, which is a family-run organic farm with incredible food. The views are unreal overlooking the Viñales Valley, but it can be quite the tourist destination as it's the #1 rated restaurant in the area on TripAdvisor and surpasses everything else by a long-shot. Try to go when the tourist buses are gone for a more enjoyable meal. Also, word to the wise — these are the largest portions I've ever encountered in my life (seriously, ever) and they won't wrap them up in takeout boxes for you unless you bring your own. Bring tupperware — you'll seriously get three extra meals out of it!
Drinks at Palenque de los Cimarrones
For drinks and dancing, finish your night at Palenque de los Cimarrones which is another Cuban cave club (I preferred this one over the Disco Ayala in Trinidad). This club also comes with a history lesson, as the caves were a main escape for slaves. If you're lucky enough to be in town on a Saturday night, you'll witness a weekly performance here and chances are if you've met any locals around town, you'll run into them here for a dance session!
Trinidad is a colonial town about four hours South East from Havana. It's a beautiful, colorful town with a more slow-paced way of life and was named a UNESCO World Heritage site in 1988.
Despite being one of the most touristy places in Cuba, Trinidad is a gem worth visiting. This perfectly preserved Spanish colonial settlement is a UNESCO World Heritage Site boasting a historic centre, cobblestone streets, a great selection of restaurants and shops, and lots of nearby activities to entertain even the pickiest visitor.
Plan to stay for a 1-2 days to get the feel for the place and explore the old colonial center, and add another 2-3 days if you want to pay a visit to the surrounding attractions, like Playa Ancon (one of the nicest non-all inclusive beaches in the country) or the waterfalls just outside of the town in Topes de Collantes National Park.
Day 6:
First thing in the morning, pack up and get a car to Trinidad (about a 4 hour car ride) with a stop for lunch in Cienfuegos, a small seaside town along the way.
Find a Casa with Rooftop Views
In Trinidad, it's easy to arrive and ask around for accommodation on the spot (such is the way in Cuba). We stayed at Casa Amparo (see map for details), which is a spacious home in central Trinidad run by two very sweet ladies (they don't speak much English but are extremely accommodating) and it has gorgeous rooftop views.
Beach Bum it at Playa Maria Aguilar
Pack up a beach bag and grab a taxi to Playa Maria Aguilar which is only about 20 minutes by car for a couple hours of sunbathing and cooling off in the turquoise water. Just note: the food at the restaurants here is not great and there are no bathrooms, so just be aware going into it, but the beach is worth it!
Take a Salsa Lesson
Salsa dancing is a must while in Cuba. Call your casa ahead (if possible) to have them book a salsa lesson for you on the roof on the afternoon of your arrival.
Dinner at La Botija
Satisfy your hunger at La Botija for dinner, which is open 24 hours but commands quite a line around dinner time, so make sure to arrive before starvation sets in. They have quite a large selection of tapas style food — definitely one of the better meals we ate while in Cuba.
Salsa Dancing at the casa de la musica
After dinner, head to the Plaza Mayor to watch the salsa dancing commence. It costs about 1 CUC to get a seat inside the square. If you're a lady, be forewarned that you will probably be asked to dance — so this is the perfect opportunity to put your new salsa skills to good use!
End the Night at Rincon de la Salsa
If you still haven't had enough salsa, walk down the street to Rincon de la Salsa to get your groove on with the locals.
Day 7:
Explore the Streets of Trinidad
After breakfast at your casa, spend an hour or two wandering around the colorful streets of Trinidad (we spent most of our time wandering between the Plaza Mayor and Plaza Carillo).
After breakfast, walk around Plaza Mayor. The square takes on a different character in the day, when it is quieter and has less tourists, so we spent some time walking around the cobblestone streets. Make sure to climb the La Iglesia y Convento de San Francisco – a bell tower which had a bird's eye view of the entire town. Probably one of the best views I've seen! Closeby, make sure to visit the souvenir shops for some local art pieces as well as funky magnets.
Horseback Riding Tour Through the Trinidad Countryside
Head back into Trinidad in time for an afternoon horseback riding adventure that the casa can book for you. We did a tour for about four hours that took us through the gorgeous countryside to a waterfall, however, it started storming heavily and we turned right back around soaked without ever going into the falls. Make sure to check the weather for the best outcome! 2-3 pm is a good time to set off on this excursion.
Dinner at La Raddicion
Get back into town for dinner at La Raddicion, which has great lobster and vegetarian options as well. Their service can be slow (an expectation in Cuba), so make sure you're not on a tight schedule before dining here.
Dance the Night Away in a Cave
End the night at the Disco Ayala, a semi-cheesy but have-to-see-once kind of nightclub, inside a cave. Check with locals about the best night to go because sometimes they do a show earlier in the night as well.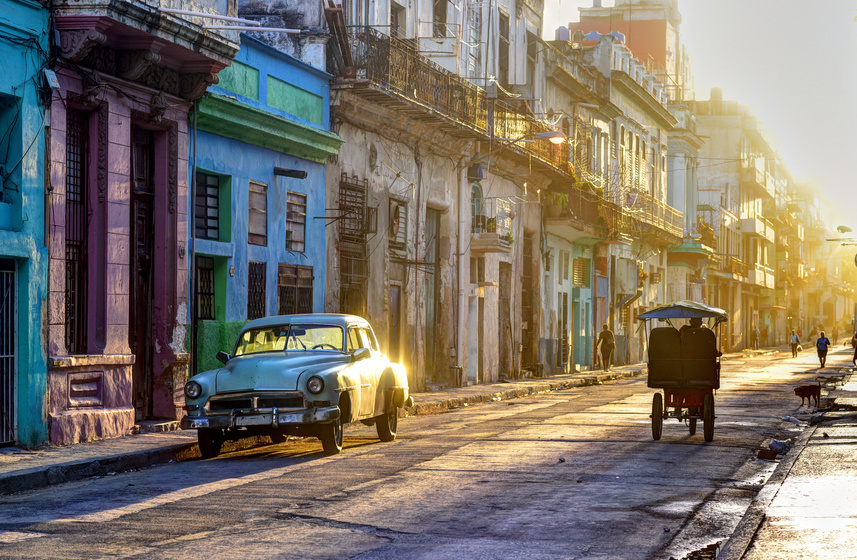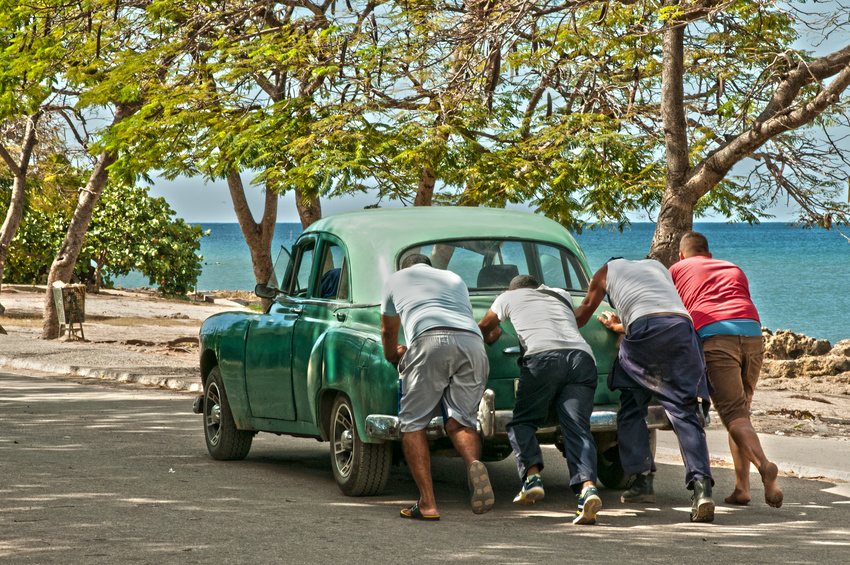 2 Week Cuba Itinerary: Havana, Vinales, Varadero, Trinidad and Cienfuegos
2 weeks give you enough time to go past Havana, Vinales, and Varadero and explore more of the island. There are 2 destinations that you can now add to your Cuba itinerary: Varadero and Cienfuegos.
Varadero
On your way from Havana to Trinidad take a 2-4 days break on the beaches of Varadero. While there are a couple of ok beaches about 30 mins outside of Havana, the whitest and most pristine stretches of sand will be waiting for you in Varadero (located about 3 hours east of Havana).
While we wouldn't usually recommend a visit to a place as touristy as Varadero, the truth is, nice beaches without the hordes of tourists and all-inclusive hotels just don't exist in Cuba.
But unlike the other beach hot spots in the country, Varadero actually offers some alternatives to the overpriced all-inclusives, as the area is also full of Casa Particulars (Cuban homestays), catering to backpackers and those on a tighter budget.
Not too far away from Varadero you can uncover a dustier, time-warped Cuba in half-ruined San Miguel de los Baños back in Matanzas Province, an erstwhile spa that harbors a grand abandoned hotel. Last stop before returning to your Varadero sunbed is Cárdenas, home to three superb museums.
Cienfuegos
A couple of hours west of Varadero lies the city of Cienfuegos, an elegant last stopover with fine boutique hotels and sunset cruises on the bay.
If you want a chance to experience Cuba without the tourists, plan to spend 1-2 days in the quiet town of Cienfuegos. It is the only town in Cuba that was founded by the French and thus is looks and feels different from the other parts of the country.
Cienfuegos was one of our favourite destinations in Cuba, not because of its sights and attractions, but precisely because it didn't have any. Apart from a quiet Malecon and the central street, Calle 37 that comes alive with locals around sunset, there really isn't much to do or see in Cienfuegos.
But we found Cienfuegos to be a place where you could just roam around, peeking into locals' homes, or chatting them up on the streets. Cienfuegos is friendly, it's simple, and it just so happened to be the home to the best cocktail we had in all of our time in Cuba. Check out the small bar El Botellon (Calle 33, Between Avenue 52 and 54).
A Day Trip to Santa Clara
If you have time, add another day to your itinerary and plan a trip to Santa Clara (you can do this as a day trip from Cienfuegos or Trinidad) where you can learn more about the history of Cuba, visit the resting place of Che Guevara, and the Monumento a la Toma del Tren Blindado, the site of one of the most important battles in Cuban history.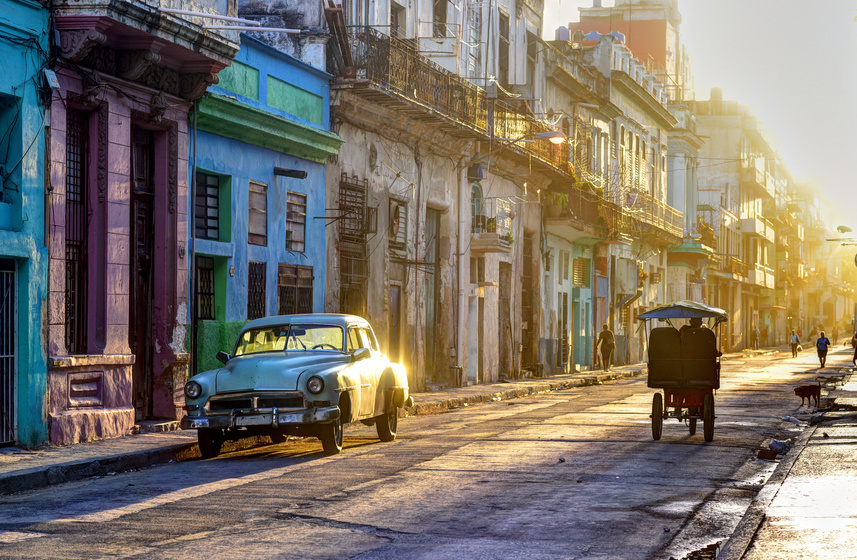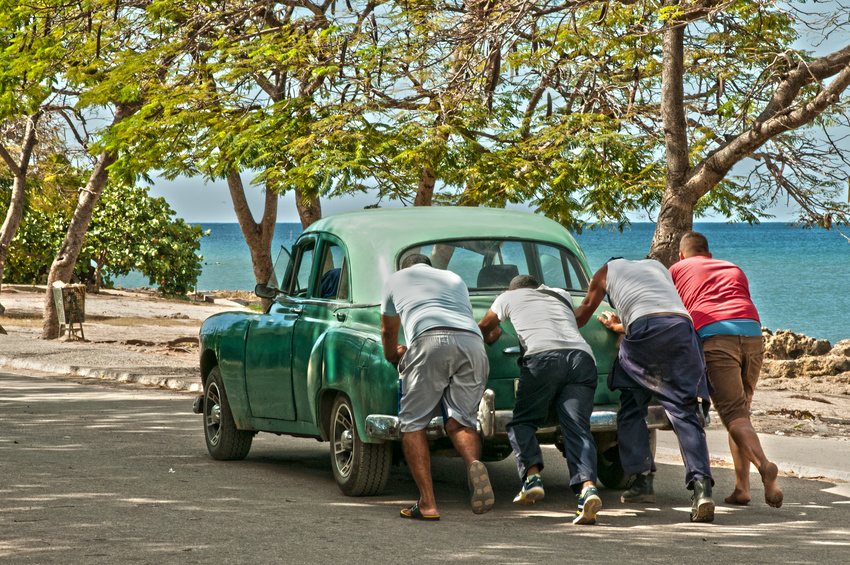 3-Week Cuba Itinerary: Havana, Vinales, Varadero, Cienfuegos, Trinidad, and Santiago de Cuba
With an additional week up your sleeve, you can cover the cities in the 2-Week Cuba Itinerary and head further south towards Santiago de Cuba and beyond.
Santiago de Cuba
Santiago de Cuba is the second largest city in Cuba and one that played a large role in the historical and cultural development of Cuban. The city is home to a rich mix of cultures and Afro-Caribbean heritage and is often described as the most Caribbean city in the country.
Plan to spend at least 3 days in Santiago de Cuba and budget another 2 for getting there and back. If you happen to be visiting Cuba in July, don't miss a chance to attend Santiago de Cuba Carnaval, one of the largest celebrations in all of South America taking place yearly at the end of July.
But with or without Carnaval, Santiago is a great destination to feel the rhythm of the nation. It's the place where salsa lovers and those that appreciate live music will fit right in.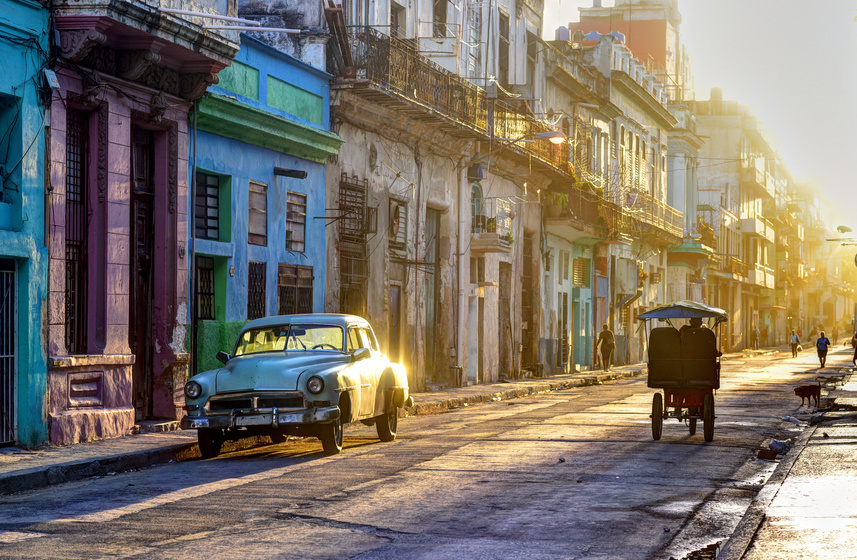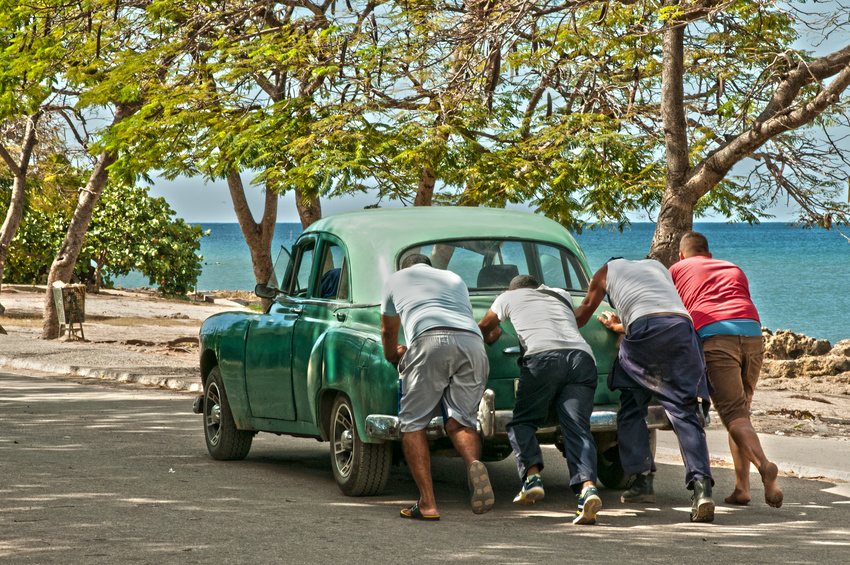 4-Week Cuba Itinerary: Havana, Vinales, Varadero, Cienfuegos, Trinidad, Santiago de Cuba, and Baracoa
This is the Cuba itinerary that we followed during out time in Cuba. Since we only had 3.5 weeks instead of the full 4 weeks, the itinerary did seem a bit rushed, so keep that in mind if you are looking at this option.
Baracoa
Going back east, keep on the green theme in Boca de Guamá, a reconstructed Taíno village and crocodile farm with boat trips to and around a tranquil lake. Procure a night or two of accommodations at a homestay in Playa Girón, where you can either dive or plan wildlife forays into the Ciénaga de Zapata.
The small town of Baracoa, the most eastern point in Cuba, just so happened to be one of our favourite destinations in Cuba. In October 2016 (about 2 months after our visit), Baracoa was devastated by Hurricane Matthew. Now in 2018, you would barely notice that a devastating hurricane once swept through the town.
Plan to spend at least 3-4 days in Baracoa to enjoy the town, visit the Humboldt National Park, check out the nearby beaches, or climb Mt. El Yunque. Budget another 1-2 days for transit as getting to Baracoa is an adventure in and of itself! The town is located a bumpy 5hour ride from Santiago de Cuba.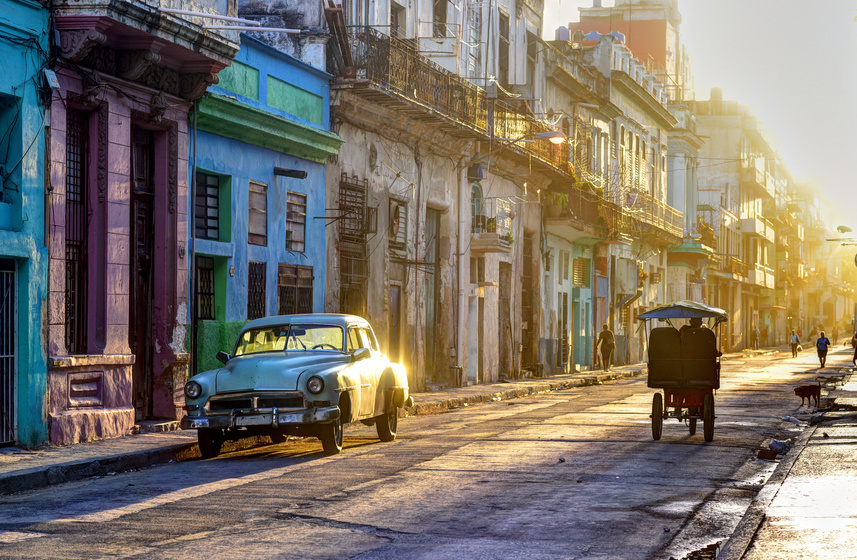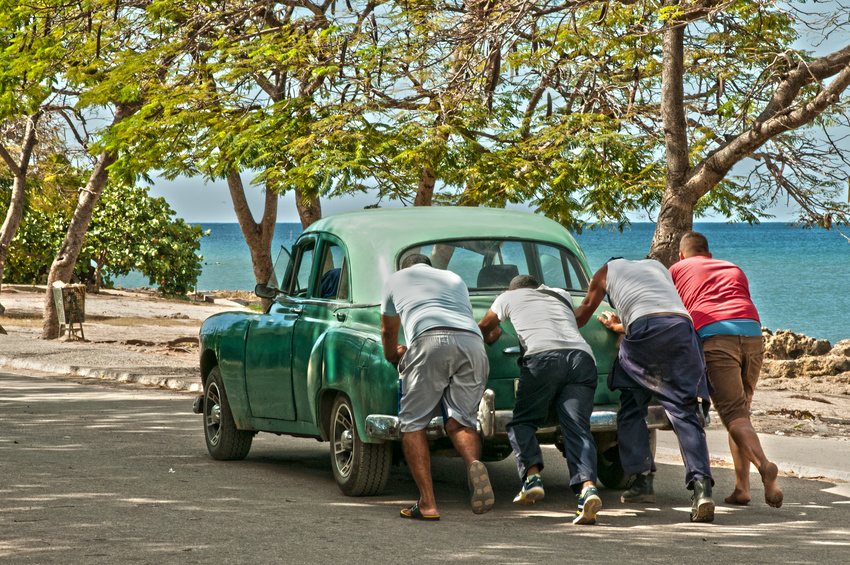 Pack Your Bags for Havana
Pack up and hire a share car back to Havana (about a two hour drive) to catch your flight out of town!
Leaving in style
For your final few hours, give yourself plenty of time before your flight and hire a 1950s convertible (the drivers act as tour guides as well) to take you to any spots you may have missed during your previous time in Havana. This is the perfect way to go out in style and also saves you money on an airport transfer!
Make your way to the airport and say goodbye to this beautiful and lively country that I loved so much this year. Hope you get to enjoy a fabulous trip to Cuba soon!